Maundy Thursday Service
Please see the Service Rota for details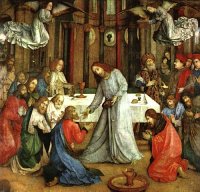 Maundy Thursday
Maundy Thursday is the Thursday before Easter. Christians remember it as the day of the Last Supper, when Jesus washed the feet of his disciples in the upper room and established the ceremony now known as the Eucharist.
The night of Maundy Thursday is the night on which Jesus was betrayed by Judas with a kiss in the Garden of Gethsemane.
The word "maundy" comes from the command given by Jesus at the Last Supper, that we should love one another.
Holy Thursday is rich in significance. It is the day when Jesus gave the gift of the Eucharist to the Church. "Do this in memory of me". His commission to the disciples can be seen as the institution of the Sacred Priesthood. He also gave his friends the commandment to love one another and in the sign of foot washing we can find the origins of the Diaconal ministry. On this night the unity of the Last Supper is in stark contrast with the agony in the garden and the arrest and betrayal of Jesus that followed. The Liturgy, then, is filled with conflicting images. There is the joy of the Eucharist, celebrated with all its splendour. There is the gift of caring for each other in the humble sign of foot-washing. There is also sadness expressed in the stripping of the altar as we prepare the church for Good Friday.
Christ has been taken away from us. We do not despair, however. In peace we pray before the Sacrament on the altar of repose. Unlike the disciples who could not stay awake for one hour, we watch with Christ.