Bishop Nigel Suffolk's Diocesan Bishop
Bishop visits the Clare Deanery
10th March 2008
The Bishop's itinerary for the day is as follows:-
9.00am - Meet at Clare parish church for Chapter morning prayer (Canon John Rankin)
10.30am - Visit to Bansfield Benefice (vacant) : Wickhambrook church / Denston church
11.30am - Suffolk Heights (vacant) Chevington church
12.30pm - Lunch at Kedington Vicarage (Revd John Ely)
2.00pm - Haverhill in afternoon (Revd Ian Finn)
4.00pm - Chapter meet again for Evensong/closing worship in Haverhill church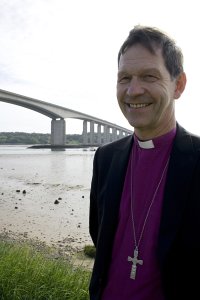 Bishop Nigel [Credit - The Diocese of St Edmundsbury and Ipswich]
Bishop Nigel officially becomes Suffolk's Diocesan Bishop - 22nd October 2007
At a ceremony dating from the reign of Henry VIII, the Rt Revd Nigel Stock legally becomes Suffolk's Diocesan Bishop today (Monday 22nd October 2007).
The Archbishop of Canterbury the Most Revd Rowan Williams and officials from Suffolk's diocese and cathedral will gather at 5pm at the church of St-Mary-le-Bow, Cheapside, London for a legal ceremony and service which confirms Bishop Nigel's election as the tenth Bishop of St Edmundsbury & Ipswich.
The event takes place at the home of the Court of Arches, the highest legal body in the Church of England and as Bishop Nigel has to have a lawyer present, he has chosen his eldest son Michael, a solicitor with a firm in the City Of London. The most senior legal official in the Church of England, the Vicar General, will ensure all the appointment procedures have been correctly followed and formally witness Bishop Nigel's consent to become Suffolk's Bishop.
The ceremony confers onto the new Bishop, "the spiritual jurisdiction over the diocese by committing to him the care, government and administration of the spirituals of the Bishopric." As Suffolk's senior bishop, he is also charged to have "special responsibility to further the unity of the church" and "to know his people and be known by them."
The Appointment of Bishops Act 1533 laid down that the Crown appoints all new bishops, but in modern times HM The Queen, as the Supreme Governor of the Church of England, directs cathedral and the Archbishop of Canterbury to join in the legal process.
Before Bishop Nigel takes up his public duties as Suffolk's Bishop he will have an audience with HM The Queen to take 'the Oath of Homage' and then will take his seat in St Edmundsbury Cathedral at his Enthronement on 20th November.