Life Events
Baptisms & Confirmations
Baptisms can be held at anytime of year. Arrangements can be made through the Rector
Confirmations are held on an annual basis. There is a formal course led by the Rector culminating in a confirmation service conducted by the Bishop. Arrangements can be made through the Rector
Confirmation 2007
The last time the Bishop gave permission for a Confirmation in our benefice was Sunday 15th April 2007 at 10am in All Saints' church Wickhambrook. Classes began on the 19th November (1.45 - 2.45pm) in the Benefice hall. Young people above the age of nine right up to adult were invited to be Confirmed and encouraged to put their names forward to the Rector. This was a very special occasion with the Confirmation being conducted in our benefice.
In total six children and one adult put their names forward for Confirmation following the introduction meeting held on the 5th November. The confirmation on the 15th April at Wickhambrook All Saints' was presided over by Bishop Jeremy Walsh.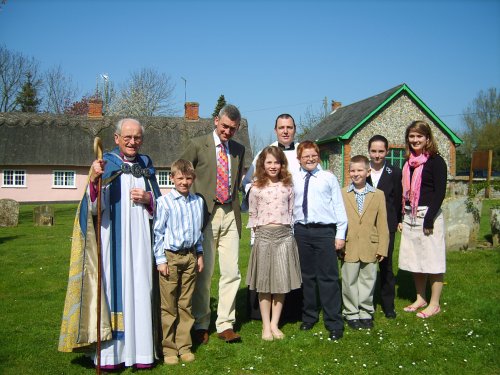 Bishop Jeremy Walsh and Rev'd Ian Finn with the seven confirmation candidates just after the confirmation service at All Saints' Wickhambrook 15th April 2007
Marriages
Arrangements can be made through the Rector
Funerals
Arrangements can be made through the Rector
Fees
The Current Parochial Fees as stipulated by the Church of England.