Friends Of All Saints' Church, Wickhambrook
Background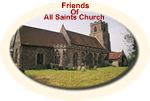 To coincide with the grant of £110,000 awarded from English Heritage to undertake Phase 2 of the restoration the "Friends of All Saints' Church" was created.
By becoming a Friend you will help to maintain the structure and fabric of the building for this and future generations. An annual contribution of £25 a year (50p a week) would greatly help. And if it were a gift aided contribution we would raise an additional £7 bringing the total to £32. With your help we can save this church. Please join the "Friends of All Saints' Church Wickhambrook".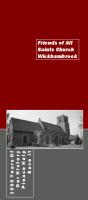 If you would like to join this Friends Society, please download the application form (by clicking on the image below - the form is in pdf format) complete it and send it as directed. Membership is £15 per person or £25 for a couple.
If you have any queries about joining the Friends of All Saints' Church please contact the Webmaster.