The History Of All Saints' Wickhambrook
Commemoration Of The War Dead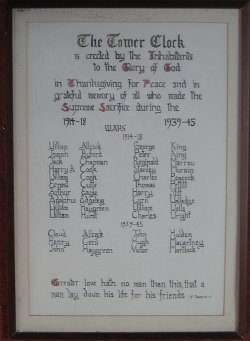 Roll of Honour - click on image to enlarge
As with most churches the names of those who fell in the two great wars are remembered and All Saints' church is no exception. There are at least three other names that should appear on the memorial. These are George Ashman, HJ Last and Major Gascoine Edgeley (who is recorded on the Culford Estate memorial). One hundred and thirty four men from Wickhambrook served in the Great War. One hundred and fourteen returned home and of these there is no record. The twenty Fallen along with the six from WWII are described below.
Further information about those men and others who gave their lives in war can be found on the Commonwealth War Graves Commission website at http://www.cwgc.org/. An excellent search facility is available here giving information about those who died in war.
The names shown below are also linked to the excellent website http://www.undyingmemory.net/ where a full citation of all the men who died in Wickhambrook is given.
Another forces resource is the Forces Reunited site http://www.forcesreunited.co.uk/.
The inscribed parchment by the North Door reads:-
"The tower clock is erected by the inhabitants to the Glory to God in thanksgiving for peace and in grateful memory of all who made the supreme sacrifice during the 1914-1918 and 1939-1945 wars
Greater love hath no man than this, that a man lay down his life for his friends. St John 15-13"
* Known as Jack (Percy) Holden