We have a vacancy for - 'Bansfield Rector'
Rector: The Benefice of Bansfield
3rd February 2020 - Revd Eve Bell was appointed next rector of the Bansfield Benefice [More].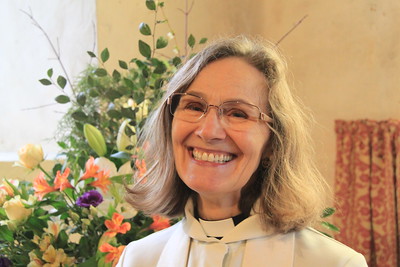 Revd Eve Bell
Is God Calling You To West Suffolk?
We are looking for someone to help our seven churches grow into vibrant, vital, hearts of our communities.
Your ideas, energy and commitment will be supported enthusiastically by the Benefice Ministry Team, committed PCCs and friendly congregations.
Set amid the beautiful, undulating Suffolk countryside, we trust you will find further inspiration in our buildings, some of which date back to the 11th century! They are all completely managed by the PCCs, freeing you to lead us in mission and worship.
Let us focus on the buildings and you on the people.
With Cambridge, Bury St Edmunds and Newmarket only short distances away, the 4-bedroom rectory is based in Wickhambrook, recorded in The Doomsday Book as "Wicham". The village now boasts a primary school (rated outstanding by Ofsted), bus service, surgery, Post Office, village shop and gastro pub.
Want to know more about us and the many mission opportunities on offer? Please read our Bansfield Benefice Profile.
A warm welcome awaits you.
For an informal conversation please contact
The Revd Canon Stuart Mitchell, the Rural Dean of Clare Deanery on
Tel: 01787 278482 / email:Thevicarage8ny@btinternet.com
Closing Date: 14th October 2019
Interview Date: 31st October 2019
The advert and application process details are available on the Diocesan website along with the Role Description. Please also view the Benefice Profile above.
Interregnum - Our Roadmap To A New Incumbent
The Bansfield Benefice is now in interregnum. [Interregnum Definition: "An interval between the periods of office of two incumbents in a parish."]
The Bansfield Benefice which consists of the churches of Cowlinge, Denston, Lidgate, Ousden, Stansfield, Stradishall and Wickhambrook went into Interregnum on the 26th December 2017 when Revd Brin Singleton moved on to his next post at Haughley with Wetherden and Stowupland.
What does the interregnum mean for us here in the Bansfield benefice? We will continue to have regular services in the benefice and Occasional Offices (baptisms, weddings and funerals). We will lose the midweek service in the benefice and reduce to one Holy Communion service on a Sunday which will be held on rotation throughout the benefice churches at 10am. Services will be taken by visiting clergy resident in the Diocese or by clergy beyond under special license from the Bishop. The same will apply to Occasional Offices.
During interregnum all the services can be found as usual on the website under Services.
For anyone wanting to contact us with regard to a religious matter or Baptisms, Weddings and Funerals please see our contact page for details.
We will all be working hard during interregnum to make it as short as possible but the whole process will probably take between six and twelve months.
Resources
A prayer for interregnum
GOD Our Father
You have welcomed each one of us in Jesus
and called us to be His Body in this place;
Send us your Holy Spirit,
at this time of uncertainty and change,
to fill us with vision, energy,
and faithfulness in prayer,
that we may be true to our calling
to bring new life to our community;
And guide with your heavenly wisdom
those who are to choose a new
Incumbent for this parish,
that the one whom we receive
may be a wise and gentle shepherd
of your people:
ready to serve us with joy,
to build us up in faith,
and to lead us by example
in loving obedience to your son,
our Saviour, Jesus Christ.