Interregnum - Our Roadmap To A New Incumbent
20th January 2013 - Revd Brin Singleton appointed next rector of the Bansfield Benefice [More].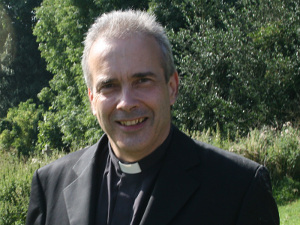 Revd Brin Singleton
Click "current status" for interregnum milestones so far.
The Bansfield Benefice which consists of the churches of Cowlinge, Denston, Lidgate, Ousden, Stansfield, Stradishall and Wickhambrook went into Interregnum on the 1st November 2012.
What does the interregnum mean for us here in the Bansfield benefice? We will continue to have regular services in the benefice and Occasional Offices (baptisms, weddings and funerals). We will lose the midweek services in the benefice and the autumn Monday evening study group.
During interregnum all the services planned can be found as usual on the website under Services.
For anyone wanting to contact us with regard to a religious matter or Baptisms, Weddings and Funerals please see our contact page for details.
We will all be working hard during interregnum to make it as short as possible but the whole process will probably take between six and nine months.
Milestones
9th September 2012 - The Rural Dean of Clare, Revd Ian Finn, reads a letter by Bishop Nigel at Denston church announcing Revd Stephen Abbott's early retirement.
19th September 2012 - Pre Section 11 meeting with the Archdeacon of Sudbury, Ven Dr David Jenkins, Rural Dean Revd Ian Finn and Benefice Committee.
1st November 2012 - Interregnum starts officially with Father Stephen's early retirement.
14th November 2012 - Section 11 meeting, to discuss the content for the Benefice Profile - the PCCs of all the parishes. Chair Rural Dean with Lay Chair of the Deanery in attendance.
28th November 2012 - Section 12 meeting with Archdeacon David and all members of the Bansfield Benefice.
2nd December 2012 - Final version of the Benefice Profile sent to the Archdeacon.
8th December 2012 - Selection Committee meet to discuss interview.
17th January 2013 - Selection Committee conduct interview.
20th January 2013 - Revd Brin Singleton appointed next rector of the Bansfield Benefice [More].
7th May 2013 - Institution and Induction of Revd Brin Singleton. The service is to be held All Saints' Church Wickhambrook at 7.30pm.
A prayer for interregnum
GOD Our Father
You have welcomed each one of us in Jesus
and called us to be His Body in this place;
Send us your Holy Spirit,
at this time of uncertainty and change,
to fill us with vision, energy,
and faithfulness in prayer,
that we may be true to our calling
to bring new life to our community;
And guide with your heavenly wisdom
those who are to choose a new
Incumbent for this parish,
that the one whom we receive
may be a wise and gentle shepherd
of your people:
ready to serve us with joy,
to build us up in faith,
and to lead us by example
in loving obedience to your son,
our Saviour, Jesus Christ.