Shakespeare In The Garden
Outspoken Theatre Group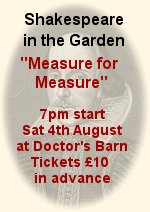 Shakespeare In The Garden
The Outspoken Theatre Group present "Measure for Measure"
Saturday 4th August 2007 at
Doctor's Barn, Cloak Lane, Wickhambrook
Gates open at 6pm
Performance starts at 7pm
Bring chairs, picnics, drinks
There is ample parking
Tickets are £10.00 in advance and £12.50 on the gate
Box office 01440 821120
The Outspoken Theatre is a summer project partly funded by Haverhill Town Council and aimed at giving local actors the chance to work on Shakespeare's plays. It consists of a three-week intensive rehearsal schedule followed by a week of performances on tour around Haverhill and surrounding villages.
History:
Outspoken Theatre grew out of two projects in Haverhill, Play In A Day in 2000, in which a team came together to cast, rehearse and stage a play in a single day at Haverhill Arts Centre, and then in 2001 a production of Twelfth Night rehearsed and staged in two weeks, also at the arts centre. In 2002 those who had been involved in these projects got together to put on an open air Shakespeare play and Outspoken Theatre was born. The play chosen was Much Ado About Nothing and the venues were at St Mary's Churchyard in Haverhill and in the grounds of Stoke College at Stoke by Clare. Last year's production was Love's Labours Lost which toured Haverhill, Hundon, Stoke by Clare, Great Wratting and Hawkedon in a week of changeable weather, successfully dodging the showers at each venue!
The Players:
The players are members of various local groups and David Hart, who has directed all Outspoken Theatre's productions, is the director of many musicals and plays for Centre Stage Company, which operates at Haverhill Arts Centre. Apart from Shakespeare and various annual pantomimes, recent credits for these performers include "Carousel", "Little Shop Of Horrors", "The Wizard Of Oz", "Blithe Spirit", "Singin' In The Rain" and "The Winter's Tale".
synopsis