Shakespeare In The Garden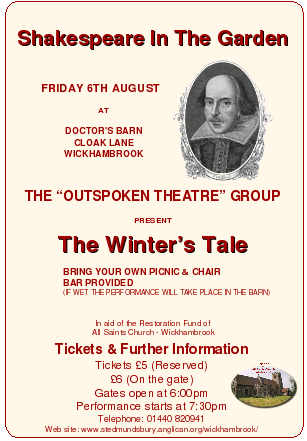 The Outspoken Theatre Group
The Outspoken Theatre is a summer project partly funded by Haverhill Town Council and aimed at giving local actors the chance to work on Shakespeare's plays. It consists of a three-week intensive rehearsal schedule followed by a week of performances on tour around Haverhill and surrounding villages.
History:
Outspoken Theatre grew out of two projects in Haverhill, Play In A Day in 2000, in which a team came together to cast, rehearse and stage a play in a single day at Haverhill Arts Centre, and then in 2001 a production of Twelfth Night rehearsed and staged in two weeks, also at the arts centre. In 2002 those who had been involved in these projects got together to put on an open air Shakespeare play and Outspoken Theatre was born. The play chosen was Much Ado About Nothing and the venues were at St Mary's Churchyard in Haverhill and in the grounds of Stoke College at Stoke by Clare. Last year's production was Love's Labours Lost which toured Haverhill, Hundon, Stoke by Clare, Great Wratting and Hawkedon in a week of changeable weather, successfully dodging the showers at each venue!
The Players:
The players are members of various local groups and David Hart, who has directed all Outspoken Theatre's productions, is the director of many musicals and plays for Centre Stage Company, which operates at Haverhill Arts Centre. Apart from Shakespeare and various annual pantomimes, recent credits for these performers include "Carousel", "Little Shop Of Horrors", "The Wizard Of Oz", "Blithe Spirit" and "Singin' In The Rain".
Future work:
Many of this cast will be involved in Centre Stage Company's production of Arthur Miller's "The Crucible", being staged at Haverhill Arts Centre in September, of the musical "Annie" in November and of the pantomime "Cinderella" in January.
synopsis
Polixenes is visiting Leontes and tells him he must return home next day. Leontes tries to persuade him to stay longer but he is adamant. Hermione joins them and induces Polixenes to stay. Leontes is jealous and thinks Hermione and Polixenes are having an affair. Hermione is pregnant and he is sure Polixenes is the father. Leontes orders Camillo to kill Polixenes but Camillo is sure Hermione is faithful to Leontes and warns Polixenes who leaves the country for Bohemia, Camillo going with him. On learning of their es- cape Leontes is furious, and accuses Hermione of being unfaithful, and sends her to prison to await trial and sentence. All the lords protest and vow she is innocent so Leontes agrees to send to the oracle at Delphos to ask Apollo who is right. Paulina visits Hermione in prison but is not allowed to see her but she speaks to Emilia who tells her the queen has given birth to a daughter and called her Perdita. Paulina decides the king must see the baby so she sends Emilia to beg the queen to allow her to take the babe. The queen agrees. The king goes into a rage and will not acknowledge the child is his. He turns Paulina out and orders Antigonus to take the child and abandon it. Hermione is brought before the king to be tried. The messengers back from Delphos arrive with the oracle of Apollo, which says Hermione is chaste and Leontes will have no heir if the lost is not found. Leontes refuses to accept the judgement but a servant enters to announce the prince his son who has been ill is dead. Hermione faints and is carried to her room. Paulina comes to say the queen has died. In Bohemia Antigonus arrives with the child and a casket of gold and papers. He leaves the child where he hopes it will be found but as he goes back to his ship a bear attacks and kills him. A storm blows up and his ship is wrecked and the crew drowned. A shepherd finds Perdita and the gold and his son Clown sees what happened to Antigonus and his ship. They take Perdita home. Sixteen years later Florizel has met Perdita and fallen in love with her. Polixenes, his father, decides to find out who he is seeing and take Camillo with him. Disguised they attend a shepherd's sheep shearing feast. Florizel asks the shepherd for the hand of Perdita. Polixenes objects and reveals who he is and threatens the shepherd with death if the marriage goes ahead. Camillo secretly offers Florizel his ship to take him and Perdita to Sicilia. Autolycus, a thief and pickpocket enters and is made to change clothes with Florizel. The shepherd and his son tell Autolycus they are going to take the casket left with Perdita to the king but he persuades them to take them to the Prince. They take the ship to Sicilia where all is revealed. Perdita asks to see the new statue made of her mother. Leontes also goes and Hermione reveals she is not dead but has been in hiding all these years.
Abridged by Mrs Nancy Cockram