Press and News - 13th June 2010
Philip celebrates 40 years as a Reader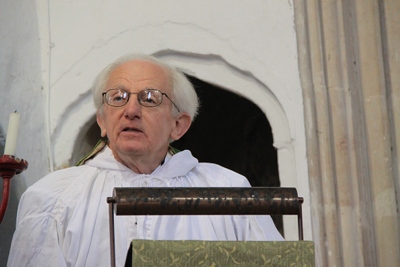 Philip giving his address to the congregation.
Sunday 13th June marked 40 years to the day since Dr Philip Draycott was commissioned as a Reader in the Diocese of Ipswich and St Edmundsbury. To mark this occasion a great many Bansfield Benefice members turned out to wish Philip heartfelt congratulations on reaching this marvellous milestone.
The celebration, a special Benefice service, was held at All Saints' church Wickhambrook at 10am on Sunday 13th June. The benefice was also very pleased to welcome Archdeacon David to lead the service with our Rector Revd Stephen Abbott. All enjoyed this lovely occasion and to mark officially the occasion the Archdeacon presented a long service award from the Bishop.
The benefice also showed its appreciation of Philip's long service by presenting him with a bee hive. Philip an apiarist of long standing was clearly delighted with this present from the benefice.
Thank you Philip for your service over the years!
Philip's long service award as Reader