Press and News - 9th April 2009
Percy Nunn received Maundy Money From the Queen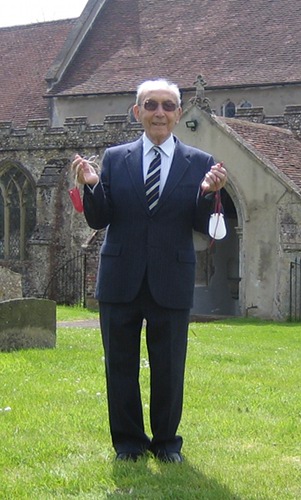 Percy Nunn with his Maundy Money at All Saints' Wickhambrook
We are delighted to announce that one of the Bansfield Benefice's parishioners, Percy Nunn, has received his Maundy Money from the Queen.
The Queen visited St Edmundsbury Cathedral, in Bury St Edmunds, to present the Royal Maundy during a special service on Maundy Thursday (9th April 2009). Her Majesty, accompanied by HRH The Duke of Edinburgh, handed out silver coins to 83 women and 83 men to represent every year of her life. This year the coins commemorated the 500th anniversary of the accession of Henry VIII (five pound coin) and the 250th anniversary of the pagoda at Kew gardens (fifty pence piece).
Percy very kindly brought the coins to Wickhambrook All Saints' church on Sunday the 10th May for all to see. Photographs of the five pound and fifty pence piece coins are shown below.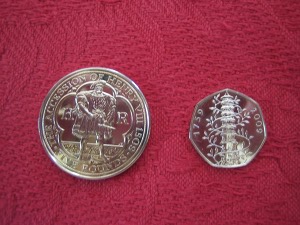 Percy's Maundy Money
Links