Press and News - 11th September 2018
St Margaret's church, Stradishall has been awarded 10 life-size sitting silhouettes as part of the "There But Not There" campaign
St Margaret's church Stradishall has been awarded 10 life-size sitting silhouettes as part of the nationwide "There But Not There" campaign. The project aims to commemorate those who died in the First World War through installations of silhouettes wherever there is a Roll of Honour. The aim is to educate all generations - particularly today's younger generation, born nearly 100 years after the outbreak of the conflict - to understand what led to the deaths of 888,246 British and Commonwealth service personnel and to heal today's veterans who are suffering from the mental and physical wounds of their service by raising substantial funds through the sales of the silhouettes.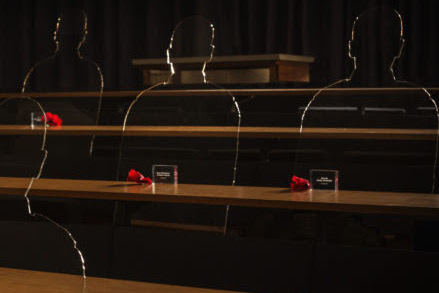 There but not there
A service is being held at Stradishall church on Sunday 4 November at 10:00am, and it is hoped local cadets will take part with locally retired servicemen and women, while on Sunday 11 November at 12:30pm, there will be a Prayer Service in the church followed by the ringing of the bells to coincide with the National Ringing of Church Bells. The silhouettes will be on display from Saturday 3 November to Sunday 11 November.
For a full list of events please see Stradishall's events
Further information is available from this article in the East Anglian Daily Times.