The return of the pew ends to Saint Nicholas' Denston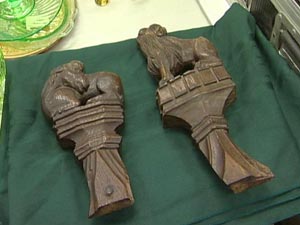 The lamb and lion finials [Credit WKYC]
This is a story that was covered in a number of papers both here - locally and nationally, as well as in the USA where the stolen pew ends or finials turned up after 34 years. One finial is of a lion, the other of a lamb. They had been sawn off two pews, the lion from the left hand end of one pew and the lamb from the right hand end of the pew in front of it. They had then been sold illegally. These days such items are invisibly marked and selling pieces of this type is a lot more difficult for thieves due to the unique nature of such artifacts which are catalogued and photographed by the churches as a safe-guard against such actions.
To find out the full story read some of the press cuttings from around the world. The June news items talk about the finials discovery whilst the September items dwell on their arrival back in Denston after 34 years away. The finials official unveiling in their rightful place is to be during the benefice service and harvest festival at Denston church on the 8th October 2006.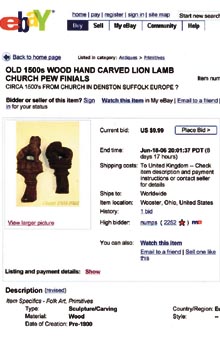 The original eBay auction item [Credit Church Times]
June - The discovery
September - The return
October - Rededication and re-installation
The finials were rededicated during the harvest festival at St Nicholas' church on the 8th October 2006. They are shortly to be reinstalled in their rightful places in church.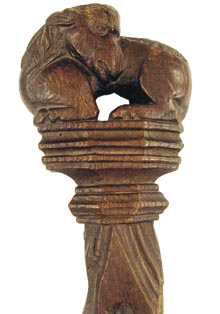 The lamb finial [Credit Church Times]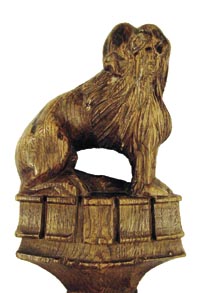 The lion finial [Credit Church Times]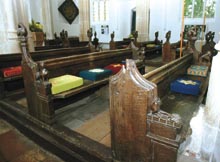 St Nicholas' church pews showing missing finials [Credit Church Times]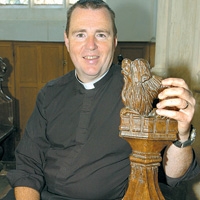 Revd Ian Finn at St Nicholas' church [Credit BFP]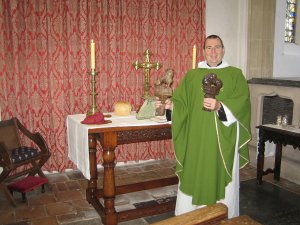 Revd Ian Finn at the altar following the finial's dedication at harvest festival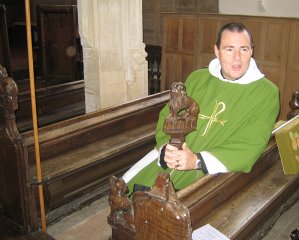 Revd Ian Finn seated in one of the pews missing its finial