Cycling Does The Power Of Good
Bury Free Press September 20, 2002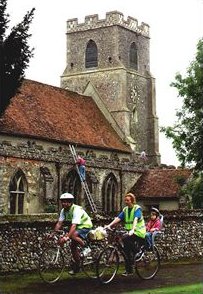 On their bikes: Paul and Sarah Bevan, with their daughter Elizabeth, take up the cycling challenge [Credit Bury Free Press]
Hordes of cyclists donned their helmets in the name of peddle power at the weekend as they helped raise money for the county's churches.
The 21st Suffolk Historic church Trust's annual sponsored bike ride again attracted hundreds of avid cyclists intent on beating last years total of £144,000.
And masses of fund-raisers in and around Bury St Edmunds turned out on Saturday to see how many churches they could visit in one day.
All Saints' church, in Wickhambrook, was just one of many churches open to riders and will benefit from the thousand of pounds raised this year.
Leslie Hanbury, former warden at the church for 25 years, said: "People always seem to enjoy themselves on what is always a very important day for churches."
"A lot of rural churches rely on funds to keep them in good condition and this day has always been a great way of raising money for a very good cause."
All Saints' Church has already been promised £110,000 from English Heritage to help fund stage two of its restoration, but still need to raise around £15,000.
This target figure will be a good deal less after Saturday's spot off fund raising with all money being divided between the Historic Churches Trust and any individual church.