Villages Celebrate Windfall
Bury Free Press July 2002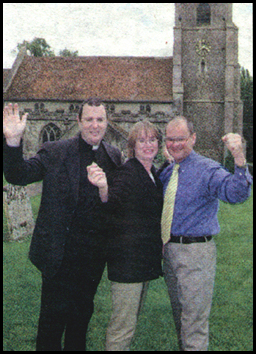 Revd Ian Finn, Jackie and Mike Chester celebrate the funding success [Credit Bury Free Press]
Villages in West Suffolk are celebrating after receiving thousands of pounds towards community projects.
All Saints' Church, in Wickhambrook has been awarded an English Heritage Grant of £110,000 to fund major restoration works on its nave.
All Saints' church in Wickhanbrook needs a total of £130,000 for phase two of its restoration project, following completion of work on the tower.
Wickhambrook residents are to raise the remaining £20,000 by holding fund-raising events, including a Open Gardens Day on August 11.
Church Warden, Mike Chester of Cloak Lane, said: "We are now having work done on the West roof which is going to be stripped and re-fitted."
"English Heritage have agreed to fund a large percentage of the cost. The villagers are proposing to raise the remaining sum." For information and tickets for Wickhambrook Open Gardens call for details. A number of gardens will be open to the public, from 2pm to 5pm, including Giffords Hall.