Show Pays Off With £1,500 for Village Church
Bury Free Press March 22, 2002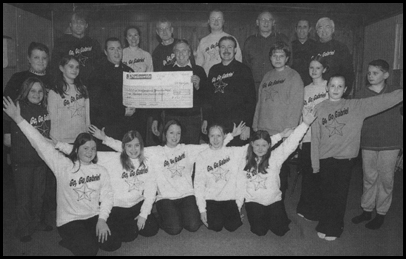 The cast of Go Go Gabriel [Credit Bury Free Press]
The show must go on - and indeed it did as a production at Wickhambrook went ahead-despite the loss of funding.
Members of the cast of Go Go Gabriel, a rock musical version of the Nativity dug deep into their own pockets to keep the production afloat when their original backer pulled out.
And their were appreciated by packed audiences at Wickhambrook All Saints' Church.
The productlon raised £1,500 towards the restoration fund for the 14th century church (10th century - Ed).
Jim Fieldsend, who together with Andy Salisbury, wrote the musical, Said: "It's been absolutely fantastic. The support we got has been terrific."
"I think we are surprised by the success of the show. We always knew that we had a good show, otherwise we would have been reluctant to put up the money for it."
"But the response has been overwhelming really. The show's been such a success that people are asking us to do it for them. We are going from strength to strength."
Now Go Go Gabriel will he put on at Sudbury, in May, and Haverhill in November.