Village Make Sure Alfred's Not Forgotten
Bury Free Press July 26, 2002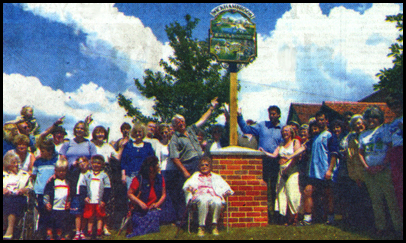 Wickhambrook village sign unveiled [Credit Bury Free Press]
A lasting tribute to Alfred Hicks has been unveiled in the form of Wickhambrook's first village sign. The late Alfred Hicks, who died seven years ago, and his lane wife. Ivy, were known as Mr and Mrs Wickhambrook.
He served on the parish council for 38 years, was secretary of the carnival for 48 years and was a village correspondent for several newspapers, including the Bury Free Press, for 60 years. He called for the village to have a sign back in 1983 and 19 years on, his campaign became a reality as, this month, the sign was dedicated to him. Made by Brian Gaze, of Ixworth, the sign has been placed on the corner of Thorns Close, and was unveiled by Mr Hicks' son, Ray, and parish council chairman, Julian Wilson.
Parish council clerk Peter Miller said, "Alf was a main mover behind the village getting this sign. When he died, a collection was held and it was at his own request that the money go towards the sign."
"It was a great honour for me to unveil the sign. Wickhambrook was my father's life," said Ray Hicks.