Garden Paths Will Lead To Lead
Bury Free Press August 2003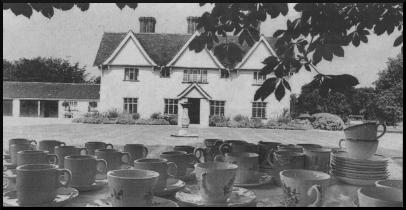 Tea Time: The garden at Clopton Hall awaits visitors [Credit Bury Free Press]
Two Wichambrook private homes welcomed paying visitors for the first time in almost 15 years in aid of All Saints' church Restoration Fund.
The gardens of the Old Cloak Inn and Clopton Hall were opened again for the event, last Sunday. Organiser Mike Chester said: "The event was very successful, even with the oppressive heat".
"People from all walks of life were there, including some who are about to move into the village."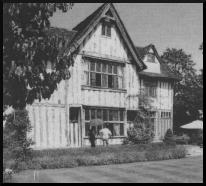 Gifford's Hall [Credit Bury Free Press]
"Not only does the event raise funds for the church, but it is good for the community as it gets people from the area together" he said.
Guests partook of Pirnrns or beer at noon, before leisurely strolling around the village gardens, which included The Manor House, Clopton Hall and Gifford's Hall.
A hired marquee provider much-needed shade for the heat-wearied visitors. More than £1,000 was raised to help relead sections of the church roof after the Iead was stolen or sold many years ago.