MP Aids Church Restoration Fund
Newmarket Journal September 2003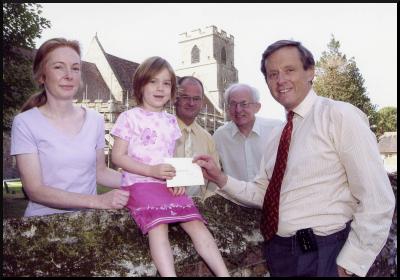 MP Aids Church Restoration Fund [Credit Newmarket Journal]
Mr Spring hands the cheque to four-year old Elizabeth Bevan, whose father is a churchwarden, watched by her mother Sarah, fellow churchwarden Mike Chester and Dr Philip Draycott, one of the church's patrons.
West Suffolk MP Richard Spring has been putting the fruits of his labour to good use and supporting the restoration of an historic church.
Mr Spring has donated money he is paid for taking part in telephone sur­veys to the restoration fund for All Saints' Church, Wickhambrook, which has been a place of worship since Saxon times.
Last week he presented the church with a cheque for £100.
Churchwarden Mike Chester said this was one of several such gestures Mr Spring had made toward the church's £358,000 restoration programme.
He Said "I think Mr Spring shows an appreciation of old buildings and their architecture and tries to keep them going, particularly in rural areas, and of course we are very grateful for his assistance."
The restoration work is being carried out in three stages, consisting of the restoration of the tower, which has already been completed, the re-leading of the roofs of the north and south aisles, which is almost complete, and the re-roofing of the nave.
Mr Chester said that funding for stages one and two was already in place thanks to the fund-raising efforts of the committee and support from English Heritage, and the outstanding funding is currently the subject of grant applications.
"The current restoration project has been running for approximately three years, and once the building's roof has been made water tight, further work on the interior of the church is planned," said Mr Chester.