Press and News - 11th August 2009
Archdeacon David Brierley 1953 - 2009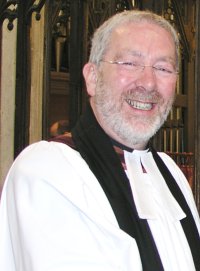 Archdeacon David Brierley 1953 - 2009 [Credit - The Diocese of St Edmundsbury and Ipswich]
Today Archdeacon David Brierley's funeral was held in the Cathedral. The following are the two statements made by the Bishop about David's sad and untimely death.
1st August 2009
Statement from the Bishop of St Edmundsbury & Ipswich the Rt Revd Nigel Stock. It is with great sadness that I have to tell you that the Ven David Brierley, Archdeacon of Sudbury, died this morning (Saturday 1st August).
David suffered a heart attack near his home at Great Welnetham, near Bury St Edmunds; he was 55. Carolyne and I were with Gill until the arrival of her family.
Appointed Archdeacon of Sudbury in 2006, I know that David was an inspiration for the parishes and clergy in the diocese. He was a valued friend and colleague, whose faith, enthusiasm, humour and deep concern for the mission of the Church were a constant refreshment.
I know Gill and the family can count on your deep sympathy and prayers as we commend David to God.
11th August 2009
An obituary from Bishop Nigel remembering our friend and colleague Archdeacon David Brierley
Archdeacon David Brierley
I know that even now members of the Diocese will be finding it hard to grasp the reality of Archdeacon David's sudden death. So many people have expressed to me their deep gratitude for David's ministry.
David was one of life's enthusiasts who brought energy and imagination to everything that he did. He embraced the role of Archdeacon, making sure that he knew the technical details, and understood all the legal requirements. But it takes more than that to be a good Archdeacon. It takes pastoral wisdom, compassion and the ability to encourage and support. David could do all this and more. But what he also brought to the role was his deep concern for mission. It was his longing for the Good News of Jesus Christ to be proclaimed confidently, enthusiastically and lovingly that underpinned his ministry.
As a colleague he was a delight. He had a wonderful sense of humour, but he was also hard working, loyal, thoughtful and kind. It is at these moments that one realises that somewhere along the line he had become not just a colleague but a real friend. Of course all the loss we feel is as nothing compared to Gill and the family for whom our love and prayers continue. David was so proud of them all.
David's faith and trust in God, Father, Son and Holy Spirit shone out in his ministry and preaching.
It is to God we commend him, in grateful thanksgiving.
+Nigel
15th December 2009
This is the text of a letter written by the family of Archdeacon David Brierley, who move from Bury St Edmunds to Manchester later this month.
Dear friends,
We would like to take this opportunity to say 'thank you' for all the cards, letters (well over 800 and still coming) and flowers that you have kindly sent to us after the very sad and sudden loss of David, who was the light of our lives. The kind words, thoughts and memories that you have shared with us have been a great comfort, and more than anything have shown us just what David meant to everyone and what a wonderful man he truly was.
We also want to thank all those who came to the Cathedral for David's service. People came from all over the country and this has meant a great deal to us since. Thank you to Bishop Nigel, and all who took part, for making the service that the children and I planned especially for David so special. This was an extremely hard day for us as a family but looking back on it does give us some comfort. Wouldn't David have been so proud of Ben; what is they say 'like father like son'!
Lots of people have been very supportive throughout this very sad and distressing time. I would like to thank Nicholas and Daniel who have been at the end of the phone day or night if I have had a problem. I also want to say a very special thank you to James and Marion who have been at the end of the phone or at the door whenever I have needed them. I am truly grateful for your love and support.
Thank you to all who gave so generously to the two charities we chose in memory of David. A cheque for £908 went to Christian Aid, which was a charity we supported every month. A second cheque went to the British Korean Veterans Association, for £1073. You may not know this but David had been Chaplin to the Manchester branch of the BKVA since 1981 and last year he was made Honourary National Chaplin to the BKVA. The BKVA has been a very special and hugely important part of both our lives for so long now and we were both so honoured to be a part of their family. Another £1100 was also given to this charity after Daniel did a sponsored car rally in memory of David. He would have been so proud of you Daniel and very humbled by what you did - Thank You.
On the 7th November we went to the National Memorial Arboretum in Staffordshire to plant a tree in memory of David. Every July David led a service here to re-dedicate the BKVA memorial. This was a very special place to us both and having a tree planted here in memory of David is an honour and has meant a great deal to the children and I; a place we hope one day to be able to go and find peace. Thank you Deirdre for the lovely prayers you said on the day and for the support you have given me. You are all very welcome to visit David's tree at the Arboretum; we ask that you take no flowers but that you place a donation if possible in the box at the entrance - this amazing place is kept going purely from donations - a cause close to both our hearts. You will find David's tree by the Korean Garden.
We are sure David would be very surprised and humbled - maybe even speechless(!) - at all the fuss just for him.
Our time in Suffolk was so very short but I want to thank you all for making us both so welcome here and taking us into your lives - can I share with you all now that this was this the happiest time of David's career which makes it all the more difficult that it was cut so suddenly short. We had three very happy years here and David loved his work as Archdeacon of Sudbury. I will always remember our time here together with much love and thanks.
Sadly, I will be leaving Suffolk to move back to the North, as I need to now be near our children at this very sad and difficult time.
Thank you again for all the happy memories that you have given me. I would like to ask that if you have any photos of David during our time here I would love to have a copy, as I would like to put an album together. You can send them via email or send via post.
Please think about me and the children as we try and begin to re-build our lives, which we are finding so very hard to do without the most wonderful Husband and Dad anyone could ever want.
Suffolk will always have a special place in my heart - thank you.
Love
Gill, Sarah, Rachel and Ben
Links