Stolen church pew ends back
Joy: eBay seller hands over carvings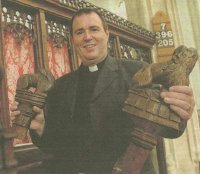 Pleased Revd Ian Finn, vicar at St Nicholas' church shows the stolen finials [Credit East anglian Daily Times]
Unique medieval carvings stolen from a Suffolk church more than three decades ago have been returned to the UK.
The pew sculptures from thr church of St Nicholas in Denston near Haverhill - depictions of a lamb and a lion - were stolen in 1972 and locals had given up on ever seeing the ancient artefacts again.
But thanks to a casual search by a church official on the internet, the pew end figures were discovered on the online auction site eBay just days before they were due to be sold.
An American tradesman had estimated the pair would fetch just over £1000 but was happy to hand them over when the officials from the tiny Suffolk church proved they were the real owners.
Dating from the 1500s, the carvings are part of the series of rare and valuable pewends featuring biblical beasts, which decorate the ornate church - and the missing pair will now be back in place for Denston's annual harvest festival in October.
A couple from the US had bought the wooden figures in good faith from an antique seller in Ipswich shortly after the theft and were hoping to sell them on through the web.
Churchgoers said they were just relieved the figures had turned up and they were yesterday eagerly awaiting news of when the carvings would be securely back at the church.
The Revd Ian Finn, vicar at the church, said "In the 1970s Denston church was in a bad state of repair and there was talk of closing it down. During that time various things were stolen from the church including the pew ends".
"They arrived back in the UK last week and they're being kept in a secure location until we can fit them back to the pew".
"It was quite lucky to find them on the web and then a lot of hard work getting them back - from both sides of the Atlantic".
"As soon as the owners realised they were stolen they said we could have them back. They are of significant artistic and historical value and they are one of the many church treasures taken over the years and we are just glad to get them back".
He said visitors interested in seeing the carvings when they were back in place would be welcome: "The church is open all day during daylight hours and if anyone would like to come and see them when they were installed they can".
Mr Finn said the police would not be investigating the theft and he thanked those involved for their help.
The Denston congregation will give thanks for the return of their beasts at the harvest festival celebrations on October 8.
02 September 2006 - taken from the East Anglian Daily Times. Story: Will Clarke, Picture: Wendy Turner.